 
Orthopedic Seat Cushion Prevents Coccyx Pain Anatomic Non-slip Gel-Viscoelastic
Orthopedic Truck Seat Cushion for coccyx pain, anatomical and non-slip Gel and Latex
BUY WITH TOTAL CONFIDENCE Your purchases and personal data are non-transferable, buying at HOMETRUCKER is 100% secure
WE PLANT A TREE WITH YOUR NAME FOR EACH PRODUCT. Now, every time you buy one or more HomeTrucker products, you will receive an email with the location of the tree or trees that we have planted with your name.
Suffering from the coccyx is a thing of the past with our ergonomic cushion HomeTrucker
The truck driver spends too much time sitting in front of the wheel, this large amount of time makes the coccyx or tailbone, end up sore and cause great discomfort sitting until reaching the point, that the simple act of sitting is a great annoyance unbearable.
In studies that have been carried out, it has been proven that the levels of blood pressure in our habits of sitting directly on a hard or flat surface, increases the pressure in the legs causing numbness due to low circulation, damage to the coccyx and hips.
Why can this cushion be beneficial for your health?
Relieves pressure on the coccyx.

Promotes a healthy posture.

Promotes circulation.

Sensation of freshness thanks to its gel sheet.

Perspiration of the buttocks and legs avoiding the appearance of acne on the skin.
What happens to your body when you sit all day?
When you spend much of your day sitting, your back tends to slouch, you're prone to tailbone pain, and your hips and legs can go numb due to poor circulation.
The HomeTrucker Gel & Memory Foam Seat Coccyx Cushion becomes an essential accessory for your work.
Its cutout back design creates instant comfort on the tailbone, helps relieve numbness or weakness in the lower back, buttocks and legs.
Even if you sit for a long time, the HomeTrucker high-density cushion maintains its original shape, increases airflow while you use it, and provides a constant cooling sensation.
It can also be used as a gamer cushion, wheelchair cushion, office chair cushion, kitchen chair cushion. No matter where you are, the HomeTrucker Truck Seat Cushion can help relieve your tailbone discomfort and help you sit more comfortably.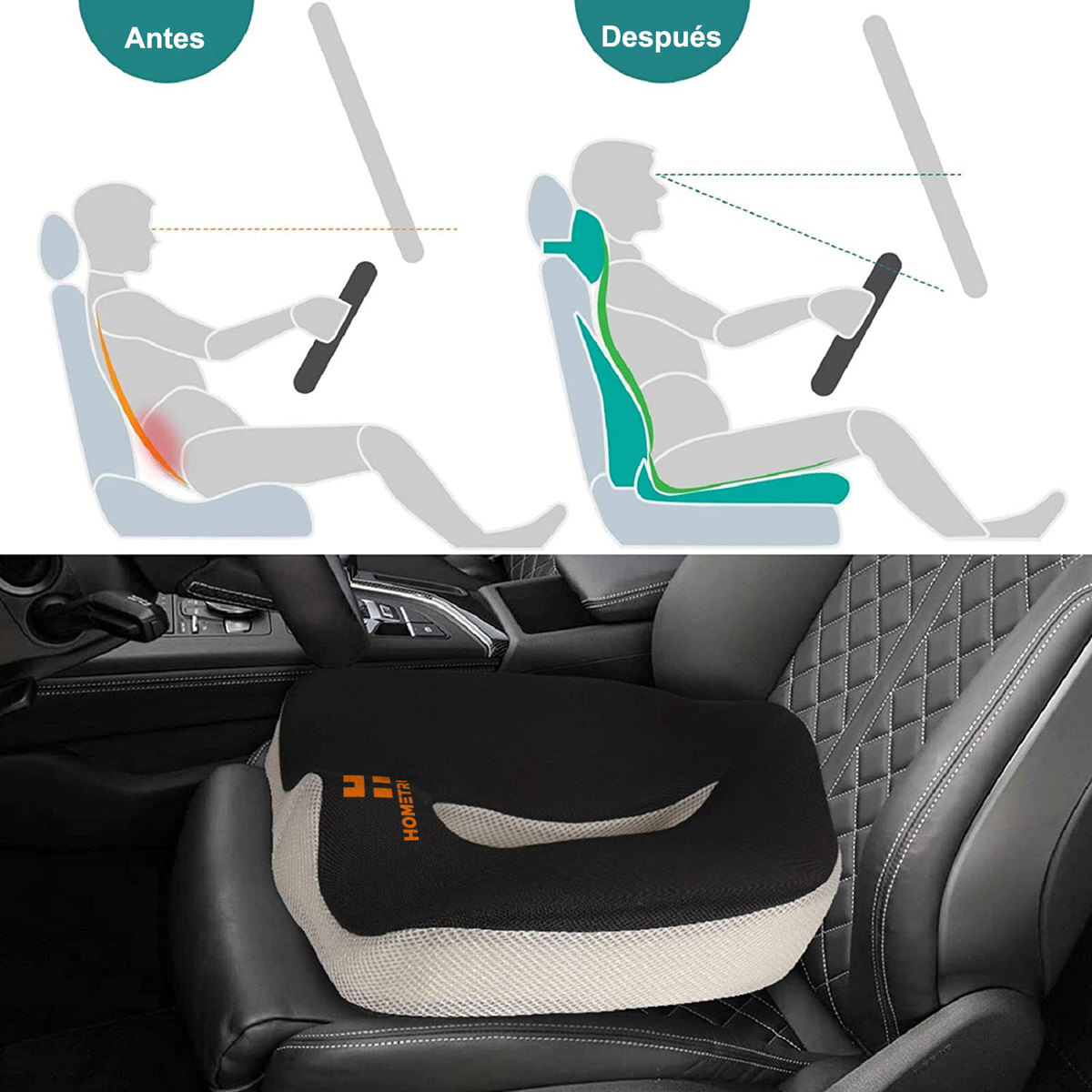 Anatomical and scientific design to improve back health
The surface of the HomeTrucker truck seat cushion is scientifically contoured to distribute your body weight across the seat.
The curved design of HomeTrucker truck seat cushions helps increase airflow, prevents numbness, and allows you to sit comfortably without discomfort. Its wedge-shaped design has multiple areas designed to fit the curve of the hips and provide effective support.
W curve shape
Our truck seat cushion features a W-curve design to disperse weight. The HomeTrucker truck seat cushion is contoured to fit the buttocks and relieves pressure on the coccyx and legs, also avoiding concentrated pressure on the buttocks, vertebrae and thus reducing fatigue.
Cushion made with viscoelastic with memory and gel
Slow rebound memory foam and cooling gel. The high-density memory coccyx cushion does not deform even if you sit for a long time. The gel generates cool relief for a long time sitting.
*Do not put the memory foam in the sun and wash it.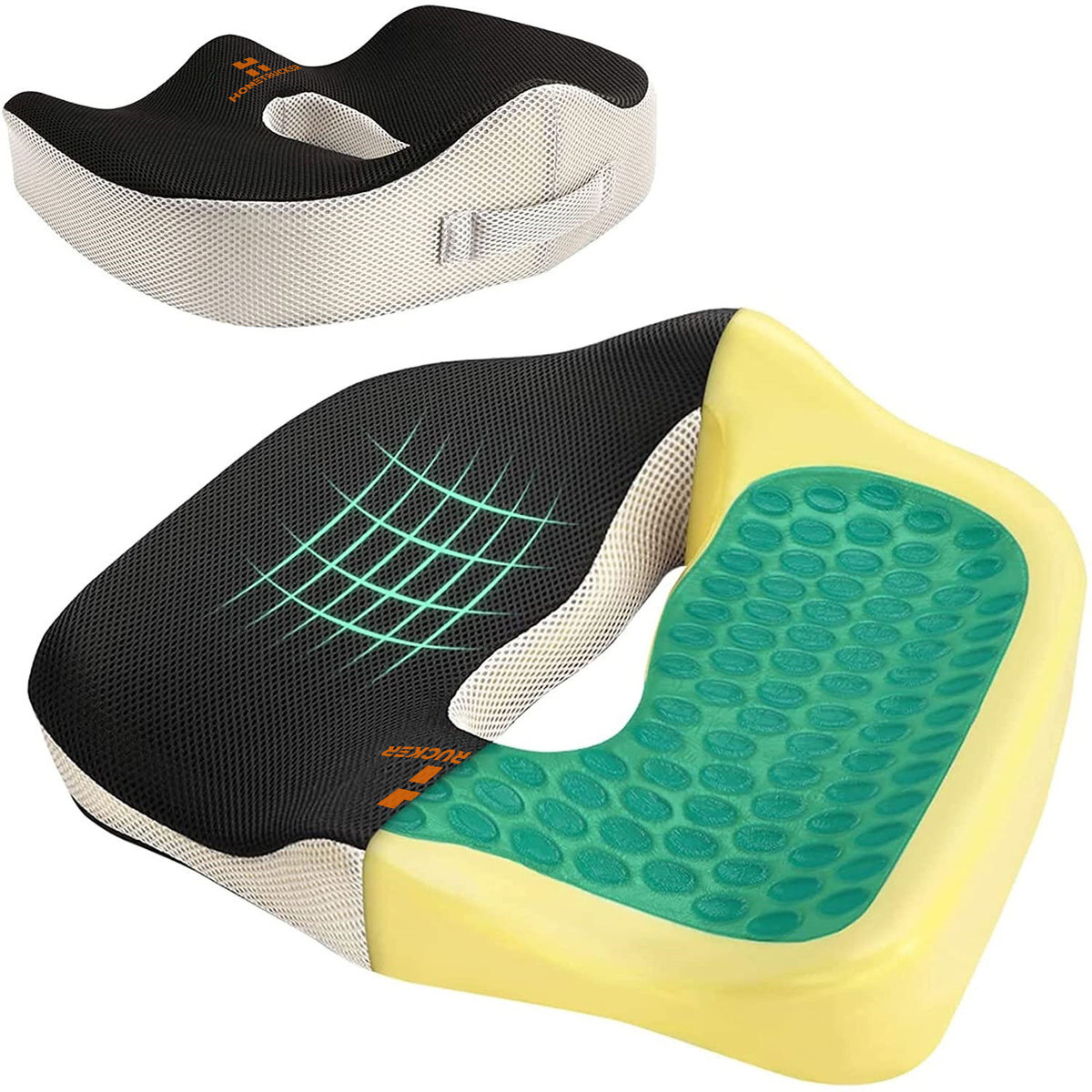 relieve pressure
This coccyx cushion is scientifically designed and fully wraps your hips for better support.
Anti-slip
Anti-slip design makes it safer when sitting by preventing slippage.
washable cover
Removable cover for easy cleaning. You can wash the cover by machine or by hand at temperatures below 40ºC.
Do not hesitate, this is the solution to your coccyx and back pain
*Recommended by health experts (physiotherapists, osteopaths and massage therapists)